AI DJ
A Disc Jockey (DJ) is a musician who plays a sequence of existing music tracks or sound sources seamlessly by manipulating the audio content based on musical elements. The outcomes can be medleys (mixset), mash-ups, remixes, or even new tracks, depending on how much DJs edit the substance of the original music tracks. This project aims to analyze the tasks of DJ and imitate them using various computational methods, particularly machine learning.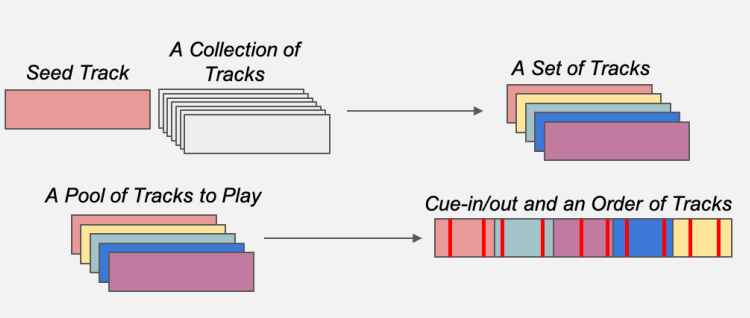 Publications
A Computational Analysis of Real-World DJ Mixes using Mix-To-Track Subsequence Alignment
Taejun Kim, Minsuk Choi, Evan Sacks, Yi-Hsuan Yang, and Juhan Nam
Proceedings of the 21st International Society for Music Information Retrieval Conference (ISMIR), 2020 [pdf]
Drum Sample Retrieval from Mixed Audio via a Joint Embedding Space of Mixed and Single Audio Samples
Wonil Kim and Juhan Nam
Proceedings of the 149th Audio Engineering Society Convention (AES), 2020 [pdf]
Automatic DJ Mix Generation Using Highlight Detection
Adrian Kim, Soram Park, Jangyeon Park, Jung-Woo Ha, Taegyun Kwon, and Juhan Nam
Late Breaking Demo in the 18th International Society for Musical Information Retrieval Conference (ISMIR), 2017 [pdf]
Funding
We have received the following funds to support this research.
National Research Foundation of Korea, 2019-2021
Naver - industry research fund, 2018-2019