Content-based Music Annotation and Retrieval
In the recent past, music has become ubiquitous as digital data and the scale of music content in streaming services has significantly increased. This posed challenges in terms of music search and recommendation. The goal of this research subject is exploring various machine learning algorithms, particularly deep learning, to extract high-level musical features from the audio signals, and applying them to various music Annotation and retrieval problems.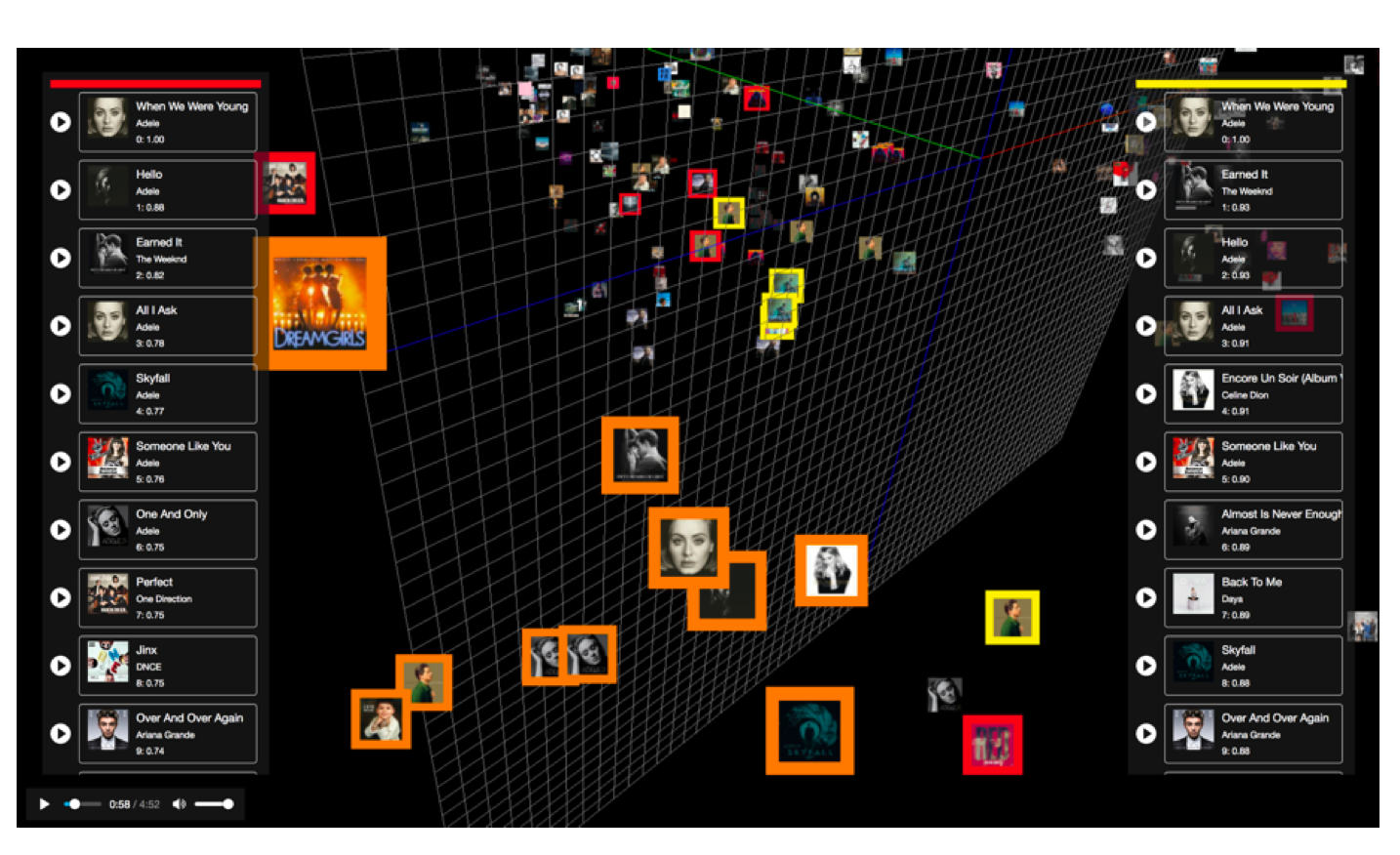 Music Galaxy HitchHiker: 3D web music navigation system through learned audio feature space
We have worked on various topics for content-based music annotation and retrieval. Here are the lists of highlight papers.
General
Deep Learning for Audio-based Music Classification and Tagging
Juhan Nam, Keunwoo Choi, Jongpil Lee, Szu-Yu Chou, and Yi-Hsuan Yang
IEEE Signal Processing Magazine, 2019 [pdf]
Representation Learning and Deep Metric Learning
Connections with Natural Language Processing
Musical Word Embedding: Bridging the Gap between Listening Contexts and Music
Seungheon Doh, Jongpil Lee, Tae Hong Park, and Juhan Nam
Machine Learning for Media Discovery Workshop, International Conference on Machine Learning (ICML), 2020 [pdf] [website]
Neural Network Architecures For Music and Audio Classification
Visualizations
Music Galaxy Hitchhiter: 3D Web Music Navigation Through Audio Space Trained with Tag and Artist Labels
Dongwoo Suh, Kyungyun Lee, Jongpil Lee, Jiyoung Park and Juhan Nam
Late Breaking Demo in the 18th International Society for Musical Information Retrieval Conference (ISMIR), 2017 [pdf]
Funding
We have received the following funds to support this research.
Adobe Research - gift fund, 2019-2020
Naver - industry research fund, 2017-2019
National Research Foundation of Korea, 2015-2018
KAIST - research start-up fund for new faculty, 2014-2017